Internet FAQ
Why has my internet slowed down:  
It is possible your device has lost connection to the tower or network.  Please use our Data Refresh function here: Data Refresh
Please check your address in our Coverage Map to ensure you are in a Good or Excellent coverage area.
It is possible that you are being deprioritized.  Please check our data terms and conditions to learn more. You can also contact us at questions@onewirelessworld.org to check data usage.
If you still are experiencing slow data, please email our Tech Support Team. 
If after all these steps have been completed and you are still experiencing data issues, call us at 1.833.YOUROWW M-F 9-4 pm MST
When does my DATA cycle start over:   On the 6th of each month.
What do the lights mean on my device:  Enclosed in each box is a pamphlet with information on the lights.
Here is a reference guide for lights on your Alicorn device:
Slow Green Light Flashing:  no users connected
Fast Green Light Flashing:  user connected, data in use
Green Light ON:  user connected, no data in use
Red Light ON:  no signal or SIM card in wrong
Red Light Flashing:  edge of network, unstable connection due to area
Blue Light OFF:  disconnected
Blue Light ON :  connected under 4G LTE network
Blue Light Flashing:  connected under 3G/2G network
How do I know how many GB I've used this cycle:  Feel free to email support@onewirelessworld.org and we are happy to check for you.
How do I check my coverage when traveling to different areas:  Use our coverage tool here:  Coverage Map
Where can I find the password:
ALICORN: On the blue Alicorn box itself on a white sticker or on the device itself on the white sticker under the cover. It is 8 digits long and labeled WiFi Key.
ONYX: If connecting to the Onyx wireless router the password is: Impact101
Bring Your Own Device or Tablet Modem: You can control and set up your own password. If you are using your own device, please insert the new sim you received from us into the device sim slot. If you ordered the tablet modem from us, the sim is active and installed. Please go to device settings and turn on and configure your Hot Spot feature to share the internet wirelessly on all your devices. Please Google your device specific instructions for enabling and using hot spot features if you have any trouble. 
My device is getting really hot:  It is important to ensure you are plugging the device into a 5V 1A Charging Port ONLY.  Make sure to power the device off when not in use.  This is not only good for the life of the device, but it also ensures you are not using data when not in use.  If the problem persists please contact support at support@onewirelessworld.org
Please remember:
Please do not remove the SIM card unless asked to by tech support. 
Make sure the SIM is a standard size SIM:  do not break it down any smaller.
Alicorn comes with SIM already installed.
Do not change the SSID on the ALicorn – voids 30 day warranty.
Do not change the password on the Alicorn – voids 30 day warranty.
Do not change the settings on the Alicorn – Voids warranty.
Do not use a port stronger than 5V 1A charger – Voids warranty.  
How do I cancel my service:  Please send an email to questions@onewirelessworld.org
Cell Phone FAQ
APN SETTINGS FOR ANDROID PHONES (iPhone APN is automatic)
Program data settings for non-AT&T Android device
To use AT&T 4G (HSPA+) or 4G LTE data services, you may need to program your data settings for a compatible, non-AT&T Android™ device, like an unlocked device from another carrier or a device purchased directly from the manufacturer.
Some older Android smartphones may use the wap.cingular APN as the default AT&T setting. This APN no longer supports smartphone data connectivity.
To program an Android device with the correct settings to connect to AT&T data services:
Access the Settings menu.
Locate and select either Wireless & Networks, More Networks, or Connections.
Select Mobile Networks > Access Point Names.
Locate and select the option to add a new 

APN

. This is usually accessed by a + symbol on the screen or by tapping the menu button.
Program each field using the settings below.
Save the changes to return to the 

APN

's menu and select the new 

APN

.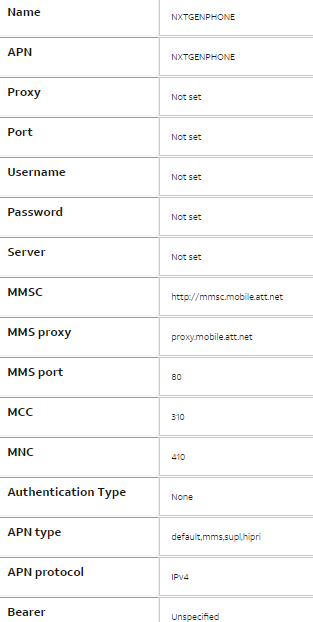 Common Fix For iPhone Text/Group Messaging Issue
This solution has been working for the iPhone issue of not being able to send texts to non iPhones or group messages. The texting issue is common among iPhones when changing carriers. Reset all settings as below:
Settings…
General…
Scroll down to reset…
Reset all settings
How to set up conditional call forwarding on your AT&T cell phone: Follow these simple steps!
Step 1: Using the keypad on your cell phone, dial *004* (do not press call yet.)
Step 2: After dialing *004*, enter the 10 digit telephone number you would like your calls forwarded to.
Step 3: Then press *11#.
Step 4:Press call and listen/look for a success message from AT&T.
Even if you received a message that your call forwarding was successfully set up, test your call forwarding by calling the phone you just set up call forwarding with another phone. If it is not working properly, you may need to turn off call forwarding and try setting it up again.
To turn off conditional call forwarding from your AT&T cell phone, simply punch in #004# and press call. Listen for a successful message stating call forwarding has been deactivated
Even if you have received a message that the call forwarding has been successfully deactivated, make sure that your AT&T cell phone now rings when a call is coming in by testing it with another phone.
​
Tablet Modem HotSpot Setup
Mobile Hotstpot
Tap Settings.
Under 'Wireless & Networks,' tap More to expand the menu.
Tap Tethering & Mobile HotSpot.
If necessary, tap the Mobile HotSpot switch to turn on.
Tap Mobile HotSpot Settings > Configure Mobile HotSpot.
If desired, tap Network SSID to rename.
Tap Security to select from:

Enter password other devices will use to connect.

Tap Save. The system verifies the account.
When 'Mobile HotSpot is active' appears, tap Yes to learn more or tap Skip.
Turn on / off
From any home screen, tap Apps.
Tap Settings.
Under 'Wireless & networks,' tap More to expand the menu.
Tap Tethering & Mobile HotSpot > Mobile HotSpot.
Tap the Mobile HotSpot switch to turn on or off.

USB Tethering
If you are using the tablet modem with the Onyx Router then you'll want to follow these instructions:
Connect tablet to computer (or Onyx) using the USB cable.

From any home screen, swipe up, then tap Settings > Network & connection > Tethering & Mobile HotSpot.
Tap the USB tethering checkbox to turn on.

Wait for device to verify account and connect to USB tethering.
---
U

ser Manuals
Alcatel A30
Download the Alcatel A30 Start Guide
LG G Tab 8
Return/Refund/Cancel Procedure & Policy
Please click HERE to read the Return/Refund/Cancel Policy and to perform ANY Return/Refund/Cancellation
Static IP APN
You must change the APN Profile of your device in order to get connected with a Static IP Address. 
Each process for changing this will be different depending on your device.
The settings that you need to ensure are correct are:
APN: b2b.static
APN Protocol: IPv4
Here are instructions for our Alicorn USB Modem:
Alicorn – Static IP APN Settings
If you wish to port your number out to another carrier, you will need the below information. Please note there is no PIN needed to port from this business account. If your new carrier insists upon one, please contact us direct at questions@onewirelessworld.org to request further help.
Name on account: Impact Wireless, Inc
Account number: 287290577879